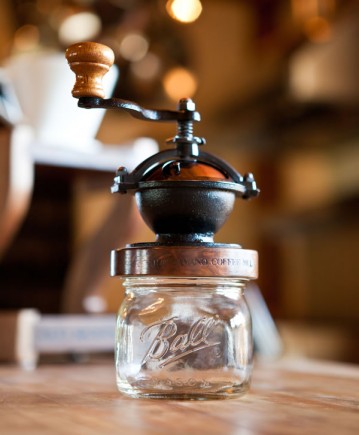 Camano Coffee Mill
We've always wanted the best cup of coffee we can get. Fresh roasted, whole bean, shade-grown, certified organic, fairly traded; can it really get any better? You bet! The trick is by hand grinding those carefully prepared coffee beans with a one of a kind tool that is designed to improve the quality of your cup. When you enjoy your coffee so much you should enjoy making it as well. The Camano Coffee Mill is a unique manual coffee grinder. A simple design, the beauty lies in its functionality and care in construction.
Our fully adjustable conical burr coffee grinder: As beautiful as it is functional. The only energy the Camano Coffee Mill uses is yours... a small way you can help conserve electricity and enjoy a good cup of joe. Holds enough coffee beans to make 4-5 cups of drip coffee. Need to make more? Just refill the hopper and keep grinding!
Dimensions: 4"d x 8"h
Grinder Mechanism: imported from Taiwan; Wood lid: American Black Walnut is hand.selected, hand.built, hand.sanded, hand.finished, hand.branded, assembled & packaged by hand right here in Biblegrove, MO; Ball jar: Manufactured in USA
Includes 16oz wide mouth ball jar. Will fit on any wide mouth canning jar.
People who bought this item also bought
Updating...