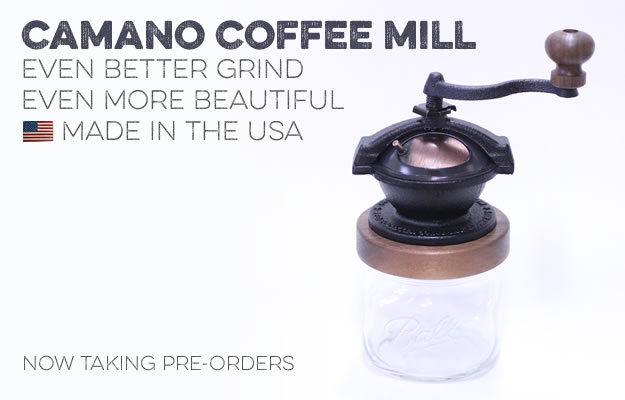 Worth the wait… this version of the Camano Coffee Mill is not only even more beautiful, but it produces an even better & more consistent grind. Taking into consideration all the feedback we received from our customers and having used the Camano every day we made some revisions important to offer you a superior grinder.
Now with the Camano Coffee Mill you have the option for a super fine grind for Turkish to a coarse grind for French Press and everything in between. A ceramic burr provides an extra consistent grind and there are more settings for additional grind options. The top arch is now cast iron instead of hard plastic & a new cast iron arch is added inside the hopper. The new top arch and inside arch offer further stability for the shaft which allows for a much more consistent grind. Add FDA approved finishes and all the aesthetic changes that were made and you get the Camano Coffee Mill that has an even better grind & is even more beautiful.
The first run of Camano Coffee Mills will be ready to ship approximately June 1, 2016. The next run will be released shortly after. The Camano Coffee Mill will be offered on a first come, first serve basis. PRE-ORDER your Camano Coffee Mill and get back to the grind.