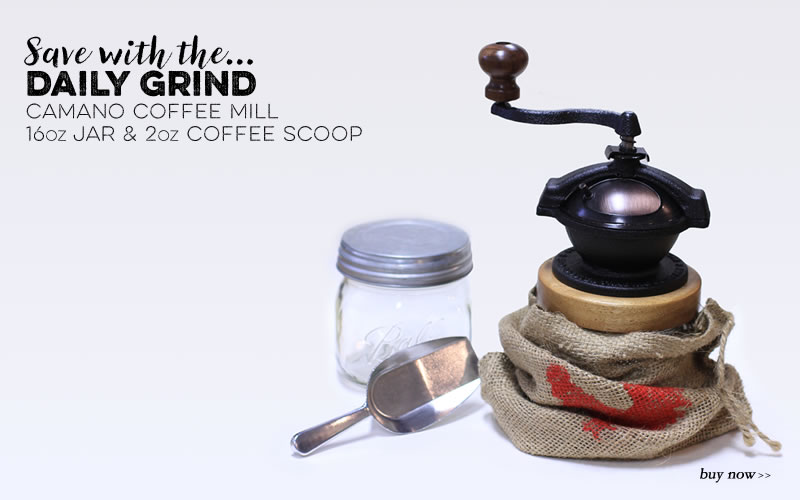 A Story about never giving up.
The phrase Keep Grinding is not just a play on words here at Red Rooster. Yes, we build grinders so it makes sense to use it as a hashtag on social media (#keepgrinding). And yes, we are a little corny around here and get a kick out of puns. However there is so much more behind that phrase.
Some of you may know we started Red Rooster in 2010 around the Camano Coffee Mill (CCM) adding other grinders, home goods & reclaimed furniture along the way. The original grinder mechanism was imported from Taiwan. It was a great mechanism to start with and we have happy customers still grinding their coffee beans all over the world using it. Since the beginning we dreamed of having our own improved mechanism made here in the USA. That journey began in the fall of 2014 as Justin began researching foundries and quickly found out how vast that world is. A little overwhelmed he continued the hunt but with little results. Speaking of hunting, shortly after we began looking into having our own mechanism made a stranger showed up on our porch. We will call the stranger, Ted. Ted was asking permission to cross our land to get to the conservation to hunt.  At the time Justin was out hunting on the farm and so he called Ted's cell to hear his voicemail about working at some foundry. He found that interesting, but quickly turned his sights back to the task at hand — finding the big one from his latest trail cam pics. Justin did not give Ted permission to cross our land as he and our son were hunting pretty hard.  You would understand if you own land in the Midwest. If you don't, just take our word for it that we get a lot of interesting folks trespassing or asking to track the 'injured' buck that crossed the fence.
That could have been where the story ended, it's a good thing God doesn't give up on us so quickly. The next day Ted shot a buck and it crossed the fence. He called Justin to see if he could track it and Justin offered to help. As they were tracking they found they had a lot in common and hit it off quickly. Later that afternoon as they were visiting, Justin mentioned what he was working on and the frustrations of finding a foundry and other manufacturer's in the USA. That piqued Ted's interest and he ended up taking an original CCM with him. Over the next two years Ted's support and expertise was invaluable. He not only pointed us in the right direction, but helped us get the drawings we needed and went to meetings, in our place, to get the ball rolling. We were back in production in the Spring of 2016, or so we thought.
In the two years that we were working on all the details of having a product manufactured in the USA we were also working on rebuilding and renovating our wood shop. It worked out that we were not in full production and had time to finish the shop. But that is a whole different story and I am sure you will hear about it one of these days. I mention this because things were going pretty smoothly, people were telling us that it usually takes at least 3 years to work out all the kinks in a US supply chain. We were ahead of the game, in the Spring of 2016 we started taking pre-orders and sold out of our first large purchase order in less than two weeks. It was exciting for us to see the initial reaction and support. Shortly after our first release we started to run into some bumps that felt more like road blocks. This is where Keep Grinding comes into the story.
One of the major details we were having a hard time with was the machining. After our cast iron parts are completed at the foundry they have to be machined. There are 10 different holes in our three cast parts that have to be drilled and some tapped too (tapped means threaded to receive screws). Through about a year of trials we ended up purchasing our own cnc mill and bringing that part of the process in-house. Learning even more and breaking a few bits we started machining our own parts. Currently this is where we are at in our story, Justin has been keeping that machine running and we have found a great powder coater close by. From Osaka to Australia to rural Missouri and everything in between, people are enjoying the new & improved Camano Coffee Mill around the world.
You guys, this is exciting stuff! Do you know that there are over 2 dozen US companies involved in this one product? Hard to believe, right? From the foundry, metal stampers, powder coater, metal platers, small parts manufacturers, knob turner, etc., a lot of folks are part of making this product. Since the first release we have made even more improvements to our mechanism. The machining is so precise that all the pieces fit perfectly together, this along with the ceramic burr allows for an even more consistent grind. A heavier gauge metal for the lock washer makes the adjustment easier and more threads means more grind settings — it now grinds fine enough for Turkish, medium for Pour Over & coarse for French Press. Really, we've got your grind, whatever brew method is your favorite! The shaft is stainless steel and all the finishes are food-grade. The packaging is just the icing on the cake. From our hand-stamped burlap bags and our local newspaper's left-overs, to the Red Rooster sticker, it stands out from the crowd.
To all of you who have ordered Red Rooster goods, shared our story and even visited us way out here in Bible Grove, we thank you from the bottom of our hearts. We thank you for being patient with us and believing in us as we Keep Grinding. And to those who have ordered and are waiting on your goods to arrive, they are coming!! We should have our parts back from the powder coater next week and shipping shortly after. I share this small part of our story in hopes that it encourages you all to Keep Grinding — our version of never give up! Whether you are working hard to provide for your family, master a new skill, or fight for your life. You haven't come this far just to come this far. Keep grinding!


Custom Furniture. Inquire for pricing. We ship.
sales@redroostertradingcompany.com