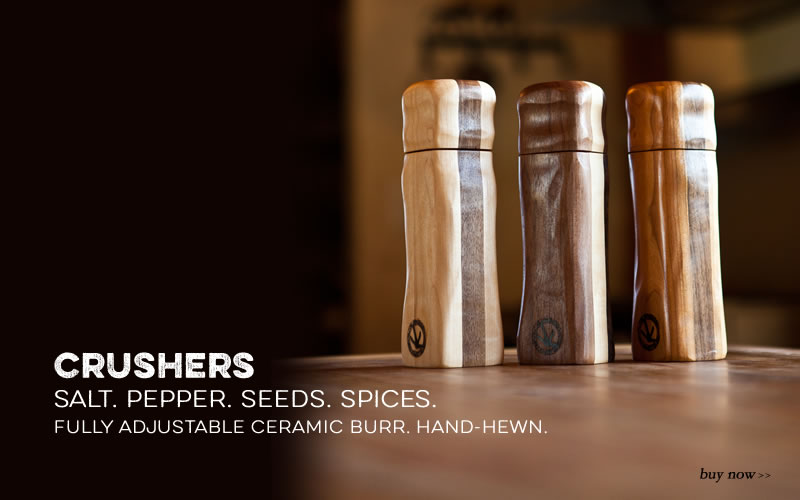 Think of a grape, you don't cut a grape to get the juice out of it, you crush it for maximum extraction and flavor. Each of our grinders has a conical burr mechanism which crushes instead of cuts. When you use our Camano Coffee Mill to crush your favorite coffee beans you are extracting maximum flavor and getting your best Cup O' Joe. The same with our Crushers & Mabana Pepper Mill, whether you are crushing peppercorns, salts, seeds or spices you are crushing & getting the most flavor for your recipe.
Our grinders are hand.built here in NE Missouri and fully adjustable. Not only are they beautiful but they are functional and built to last. Since they are so unique, they make great gifts for weddings, birthdays, Christmas etc.
Not only is the Camano Coffee Mill perfect to grind coffee beans for any brew method, but it also works great to grind peppercorns, flax seed, cinnamon sticks, seeds, spices etc. Since it is bigger than our other grinders it is ideal for when you need more for a recipe.
The Mabana Pepper Mill works great for fresh ground pepper at the table or stove. Load the hopper with your peppercorns & grind right over your plate, pan or pot. It has a cast iron burr, so we don't recommend using it for salt. This is one of the main reasons we created the crushers.
The Crushers have a ceramic burr so it is great for salt, peppercorns, seeds & spices. Each of the crushers has the same mechanism, we use the different wood colors so you can get a set and know what's what.
Save with a Bundle.

Custom Furniture. Inquire for pricing. We ship.
sales@redroostertradingcompany.com